Hutts Ultra Blogging World
The Dambusters dog: The Headstone was replaced to remove racist name. But the name remains in the movie version of The Dambusters.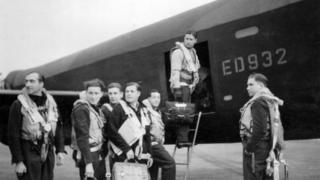 A gravestone honouring the Dambusters' dog – whose name is a racial slur – has been replaced.
The 617 Squadron's mascot, a black Labrador, died on the day of its famous "bouncing bomb" raid on German dams in 1943.
A memorial at the Dambusters' World War Two base, RAF Scampton, bearing the dog's name was removed.
The RAF said it did not want to give prominence to an offensive term that went against its ethos.
Sir Edward Leigh, Conservative MP for Gainsborough, said he was "very fearful of our ability today to erase or re-write history".
Image captionThe dog's grave…
View original post 251 more words